Welcome to Our New Online Home
Dicalite, Dicaperl, & Specialty Vermiculite Corp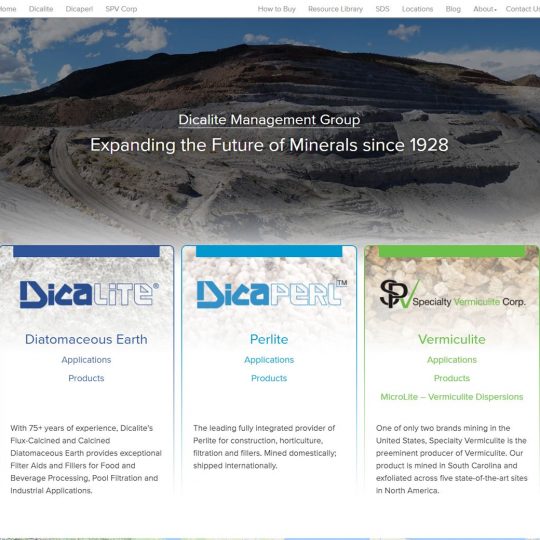 Dicalite Management Group: An Integrated Group
As we were going through our website, knowing it needed an overhaul, we recognized a further need—a strong footing on which to construct the new site and a strong company backing. The result was the decision to consolidate all our brands—Dicalite, Dicaperl, and Specialty Vermiculite Corp—under one umbrella company: Dicalite Management Group.
Timeless minerals don't make a timeless website.
We've been expanding the future of minerals since 1928 with diatomaceous earth, perlite, and vermiculite, but our website just came into the 21st century. We understood our customers needed us to have an online presence that helped them make informed decisions through self-learning and easier contact with our sales and technical teams. The solution is one website with a strong and clear hierarchy and navigation, serving stakeholders across each of DMG's brands and market segments.
What You're Going to Love
Individual mineral pages
What is perlite and what is it used for? How is diatomaceous earth mined? You'll find answers to many of your general questions on the pages dedicated to each mineral.
Application pages
What's your industry? Is vermiculite something you could use? Find out on the individual application pages.
Product pages
This is our solutions center. Discover what we can offer you.
Easy contact
Did you not see a product fit just for you, or are you ready to place your order? Find out who to contact easier than ever on our contact page.
Resource center
How do I do this? What studies were done to support these claims? You have access to answers to many of your questions in the resource library.
The interactive map
We are a global company and have locations all around the world, which you'll hear about throughout the website. Get a better and more beautiful idea of our impressive dispersion using the map.
We'll see you again soon.
There's plenty to see and even more to learn. We designed the website with that in mind, knowing you'll be back time and time again.
Sign up for our newsletter to get updates and gain more knowledge about everything we offer.
Join Our Mailing List
Our blog offers insight and information about new and exciting uses for perlite, diatomaceous earth, and vermiculite deriving from years of research and application. From passive fire resistance to mineral depth filtration, by subscribing to our mailing list, you will receive the latest information surrounding the Dicalite, Dicaperl, and Specialty Vermiculite brands and products.