6 Reasons to Be Thankful for Minerals
---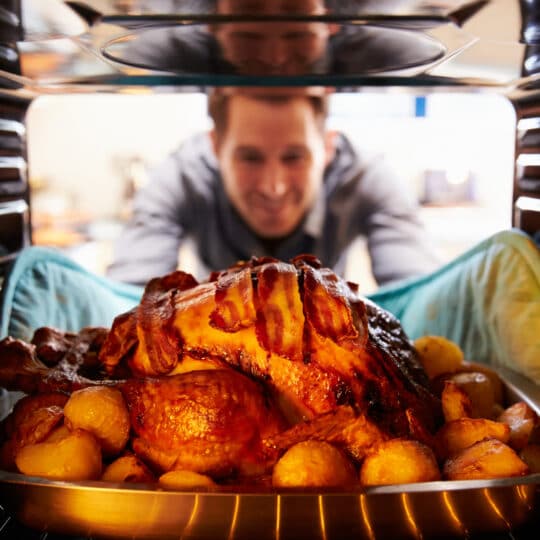 Each year on Thanksgiving, many families share the tradition of going around the table to hear what everyone is thankful for. Did you know when you say you're thankful for the food and drinks in front of you and the safety of your family, minerals may have played a part? And there are many other reasons you might be thankful for minerals and not even know it. Read on to learn a few of the reasons we should be thanking diatomaceous earth, perlite, and vermiculite.
6 Reasons to Be Thankful for Minerals
Minerals Help Produce Some of Our Favorite Drinks
While you're getting ready to "Cheers!" around the dining room table, you might be able to thank the filtration properties of minerals for your favorite drinks.
Wine. For wine filtration, the pores of diatomaceous earth within and between the cell walls are so small, they trap proteins, tartrate crystals, yeast and bacteria, and other suspended solids from liquids. This leaves your wine cleaner and clearer with drastically reduced solids and contaminant levels. Vintners use diatomaceous earth for wine filtration alone, or it's used as the second step in the filtering process.
Beer. Beer filtration removes yeast, tannins, and some large proteins that eventually settle to the bottom of a barrel, can, or bottle. Diatomaceous earth is completely natural and a mechanical—not chemical—filtration method. It has a high solids holding capacity, allowing for much longer filter cycles (and more solids to be removed) than what would be possible with other filtration methods.
Minerals Help Keep People Safe
MicroLite vermiculite dispersions can be used on industrial materials to create fire-rated products. Some products that benefit include building boards, fire door cores, encased ductwork, steel building elements, gypsum plasterboard, cementitious spray, and more.
MicroLite is also used to create important personal protective equipment that can withstand high temperatures. For example, these vermiculite dispersions are used for manufacturing high-temperature gloves that can withstand peak temperatures of 2000°F.
Minerals Support Green Efforts
In addition to being abundant environmental resources, minerals can be used to support your green efforts.
MicroLite vermiculite dispersions are applied as a coating in flexible plastic films used for a variety of packaging. MicroLite dispersions are one of the very few materials in qualification for recyclable flexible packaging. These packages are the very same ones used to keep your food fresh, like plastic wrap. So, when you're saving leftovers, you might be able to thank minerals for that! 
Biodiesel is an alternative fuel source that can be used as a replacement for conventional, fossil diesel. Some feedstock choices include pure vegetable oil, animal oil, animal fats, and waste oils. Before these oils can be used as fuel, they need to be processed appropriately, and minerals like diatomaceous earth can help.
Minerals can help decrease energy use. Because of its unique closed-cell structure, perlite can drastically reduce heat transmission through masonry walls. Thermal performance tests show significant energy savings when perlite is used to fill cavities in concrete masonry structures.
Minerals Help Us Grow Better Crops
Perlite, diatomaceous earth, and vermiculite can all help support plant health. Diatomaceous earth is a near-pure sedimentary deposit consisting almost entirely of silicon dioxide, one of the world's most abundant elements. Plant Available Silica (PAS) is translocated to the plant's cell wall, improving structural integrity. Perlite provides space for both air and water within a soilless mix. Vermiculite is a common addition to soilless mixes, helping to lower the risk of pests and disease due to the inorganic qualities.
A study was conducted to see how strawberries and sweet potatoes responded to a soil conditioner made with diatomaceous earth compared to a control group that was treated with a normal fertilizer application. Strawberry root mass was increased by 100% to 200%, yield was increased by an average of 35%, and there was a higher survival rate of strawberry runners, allowing for the potential of more crops.
Studies also concluded the addition of diatomaceous earth as plant-available silicon improved the growing environment and quality. There was increased uptake of key nutrients during the wet period when nutrients are typically leached away from the root zone. Natural diatomaceous earth improves the moisture retention in potting mix and soil by retaining a greater quantity of water and drying at a slower rate—all without waterlogging. It creates an unfavorable environment for hard- and soft-bodied pests.
Now, it's easier than ever for even casual growers to grow great. Our team of engineers, operations personnel, and agronomists have utilized these very minerals to develop a patent-pending, 3-in-1 soil amendment offered by our first-ever direct-to-consumer brand Harvest Hero. The innovative Enhanced Perlite Mix features a unique, proprietary blend of perlite, diatomaceous earth, and essential nutrients that support growth for a variety of plants.
Minerals Can Help Keep Animals Healthy
Vermiculite acts as a catalyst in animal feed, soaking up a range of essential nutrients and delivering them slowly to animals. Vermiculite is also used as a blending agent to retain free-flowing characteristics in a feed mix, as a bulking agent to control caloric intake, and in dog food to increase regularity and control fecal odor.
Natural diatomaceous is an EPA- and FDA-approved natural insecticide. You can add it to the chickens' dust bath mixture helping to help prevent problems with lice. And use it to help control fleas on dogs and reduce parasites in horses, pigs, and other farm animals.
Minerals Probably Helped You Cook Your Thanksgiving Meal
You might be thanking minerals for your perfectly-cooked turkey dinner! Fiberglass rope is heat resistant and withstands high temperatures, so it is often the choice for oven gasket seals. If the gasket isn't working properly, your food will take longer to cook, your oven will use more energy, and heat will escape from the oven creating a dangerous environment for you and your family. While fiberglass on its own can withstand high temperatures, it can withstand even higher temperatures when coated with vermiculite. It is a top choice as a fiberglass coating for home ovens, commercial ovens, and microwaves.
There Are Many Reasons to Be Thankful for Minerals!
Use our Product Search Database to learn more reasons why you can be thankful for minerals. Use this search tool to find your mineral solution and all the technical information related to it. At any moment in time, you can access our products' Technical Data Sheets (TDS), Safety Data Sheets (SDS), and sales support materials (when applicable). Finding the right mineral solution is easy: simply apply filters so you only see the products relevant to you. Start exploring there, and then give us a call at Dicalite Management Group to see other ways we can help you be thankful for minerals.
Join Our Mailing List
Our blog offers insight and information about new and exciting uses for perlite, diatomaceous earth, and vermiculite deriving from years of research and application. From passive fire resistance to mineral depth filtration, by subscribing to our mailing list, you will receive the latest information surrounding the Dicalite, Dicaperl, and Specialty Vermiculite brands and products.