Minerals in the Kitchen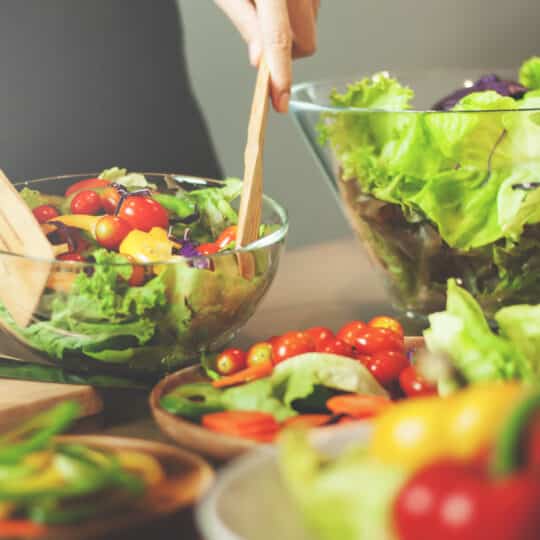 They say the kitchen is the heart of the home. It's where you'll find the family gathering around for cooking and meals. It's also where minerals are likely to be found. Diatomaceous earth, perlite, and vermiculite can be discovered all around your kitchen, and you likely use products made with them every day, multiple times a day. Read on to learn the many ways you use minerals in the kitchen.
How You Use Minerals in the Kitchen
Keeping Food Fresh
Have you ever gotten into a frustrating match with plastic cling wrap when trying to keep food fresh in the fridge or on the way to a potluck? You might be using a product made with diatomaceous earth. But, in this case, this mineral actually helps make it less frustrating for you and limits the amount of wrinkling and sticking to itself!
Natural silica (diatomaceous earth) and magnesium silicate (talc) are the most common natural anti-blocking agents used to minimize film-to-film contact. Anti-blocking agents work by reducing the blocking force and providing a microscopic barrier that minimizes the contact between adjacent plastic film surfaces.
Fresh Fruits and Veggies
The fresh fruits and veggies you bought in your store or grew in your own garden may have prospered with the help of perlite, diatomaceous earth, vermiculite, or maybe all three!
Perlite: The biggest benefit of expanded perlite is that it provides space for both air and water within a soilless mix. In fact, perlite retains water in three ways: in between individual grains, in channels leading to the cores of the grains, and on the highly irregular surfaces of each particle.
Diatomaceous Earth: This mineral consists almost entirely of silicon dioxide, one of the world's most abundant elements, which is semi-soluble and essential for plant health. Silica improves cell wall strength and structural integrity, allowing diatomaceous earth to improve soil quality while increasing resistance against abiotic plant stressors like drought and waterlogging.
Vermiculite: Vermiculite improves water retention, soil aeration, and drainage. It can be used in soil and soilless media mixes, whether growing in pots or in the garden.
Dicalite Management Group offers commercial amounts of minerals, but home growers can reap the benefits of minerals with our direct-to-consumer brand Harvest Hero.
Meat
Minerals help support livestock health in many ways, so the meat you enjoy at mealtime may have been raised with help from minerals.
Diatomaceous Earth acts as an anti-caking agent to increase the mixability and flowability of animal feed. In a silo, wet grain, corn, and other types of feed will often stick together in clumps; adding diatomaceous earth helps to dry it out, break it up, and keep it from sticking in the silo.
Vermiculite mineral feed additives like Verxite (a highly-purified form of vermiculite which is a mica-like mineral) add nutritional value to feed and increase the shelf-life of products, providing a financially smart solution for farmers. Plus, you'll be comfortable knowing your animals' feed is enhanced by minerals that are certified FDA-approved. Verxite is a highly purified vermiculite hydrobiotite mineral that is thermally expanded to form lightweight granules with high internal porosity. It acts as a catalyst in animal feed, soaking up a range of essential nutrients and delivering them slowly to animals.
Cooking
Are you cooking dinner in the oven tonight? You might have vermiculite to thank! MicroLite, chemically exfoliated vermiculite, is used as high-temperature coatings, binders, or fillers in oven gaskets. The addition of MicroLite imparts fire resistance and upgrades the service temperature of the end product. Coatings of vermiculite on fiberglass textiles, like oven gaskets, have been shown to increase the service temperatures up to an impressive 1100°C. This helps keep your oven temperature more stable and keep your family safer by keeping the heat in.
Cleaning
Dish Drying: Are you on the market for a more efficient dish-drying pad? Diatomaceous earth might be your solution. The absorbent qualities of this mineral are utilized in a diatomaceous earth drying mat. Just like in other uses of diatomaceous earth, it's touted for being sustainable, quick drying, and low maintenance.
Natural deodorizer: Kitchens are the sources of many smells, and not all of them are as pleasant as cookies in the oven. The absorbent qualities of diatomaceous earth help soak up unwanted smells in places like your refrigerator and cabinets.
When Your Customers Need Minerals in the Kitchen, Choose Dicalite Management Group.
When your products require the help of diatomaceous earth, perlite, vermiculite, or a combination of all three, Dicalite Management Group is your reliable source for your mineral needs. Our sales and technical services team work closely together to ensure you get the best product for your application. We'll also send you a free sample to get you started. Contact us today or call us at 866-728-3303.
Start your research now! Use our product finder database to find safety data sheets and more information about all our mineral products for the kitchen.
Join Our Mailing List
Our blog offers insight and information about new and exciting uses for perlite, diatomaceous earth, and vermiculite deriving from years of research and application. From passive fire resistance to mineral depth filtration, by subscribing to our mailing list, you will receive the latest information surrounding the Dicalite, Dicaperl, and Specialty Vermiculite brands and products.