How to Improve Personal Protective Equipment with MicroLite
Improve Your PPE Program with These Three Products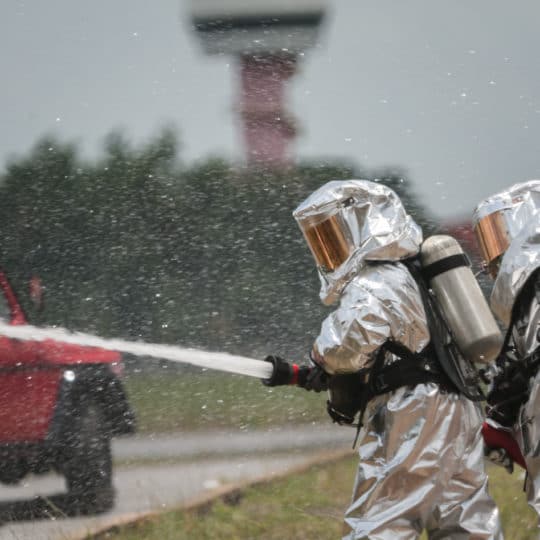 Now more than ever, we are hearing and talking about how personal protective equipment (PPE) is necessary for our society. There are many fields that require personal protective equipment, from healthcare to public safety and welding to manufacturing. Vermiculite is an essential component of a variety of applications, including high-temperature gloves, proximity suits, and aluminized clothing. It is used to impart fire-resistance to these products and keep users safe. Today, we're going to take a look at vermiculite's role in personal protective equipment.
How to Improve Personal Protective Equipment with Vermiculite Dispersions
Vermiculite dispersions are stable dispersions of vermiculite in water. They are produced by the chemical exfoliation of vermiculite, a naturally occurring magnesium aluminum-silicate mineral. It has high-temperature resistance up to 1400°c.
High-Temperature Gloves
Vermiculite dispersions can be used when manufacturing high-temperature gloves. For example, The 200 Series ZetexPlus Gloves Gloves are constructed from ZetexPlus Vermiculite Coated Fiberglass Fabric. This fabric is woven from highly texturized continuous filament fiberglass yarn and treated with a proprietary vermiculite coating. The high-temperature coating causes heat to disperse evenly across the surface of the fiberglass fabric, significantly boosting its resistance to high temperatures and abrasion. Temperature thresholds include:
Operating temperatures up to 1500°F / 815°C
Peak temperatures up to 2000°F
Extended direct contact with temperatures around 2000°F may damage the ZetexPlus Gloves, but the user will be protected from high temperatures around 1500°F / 815°C for a longer duration.
Note: These temperature ratings are dependent on the environment and application in which the heat resistant gloves are being used. The temperature rating might be different for your application.
Proximity Suits
Workers in a number of different fields benefit from the protection that fire-resistant PPE offers. Proximity suits are designed for exterior rescue operations and other fire situations where there are hazards and people operating in excessive temperatures within the manufacturer's recommended operating range. But there are multiple other industries that require it, including public safety, oil and gas, welding, manufacturing, mining, and electrical. Some common needs for heat-resistant equipment include:
Flammable liquids or flammable soils that may land on garments
Contact with or close proximity to molten metals
Potential contact with sparks from flame cutting or welding
Contact with open flames
High-energy electrical discharges
Explosion of volatile liquid or flammable gas vapors
Ignition of combustible dusts
It is the employer's job to ensure employees have the correct heat-resistance personal protection equipment. There are three basic types of protective suits: approach suits, proximity suits, and entry suits. The temperature threshold increases with each suit. For example, proximity suit used for aircraft rescue fire fighting teams. The maximum ambient heat protection is about 500°F. Entry suits are suitable for the highest temperatures. As the name suggests, they are used for entry into extreme heat and situations requiring protection from total flame engulfment. They are most commonly made of Zetex or Vermiculite. Maximum ambient heat protection is about 2,000°F for short duration and prolonged radiant heat up to 1,500°F.
Aluminized Clothing
Aluminized clothing can also be improved with the addition of vermiculite dispersions. They provide high-level protection against radiant heat and molten metal. It is designed for high temperatures and provides protection against heat, sparks, and molten metal splash. In addition, it helps protect the user from ambient temperatures around 200°F; temporary temperature protection is much higher. Some articles of aluminized clothing include:
Jackets
Aprons
Sleeves
Hoods
Pants
Boots
Boot covers
The vermiculite coating causes heat to travel along the fabric, not through it to the wearer.
About MicroLite Vermiculite Dispersions
MicroLite is Specialty Vermicuilte's vermiculite dispersions produced by the chemical exfoliation of vermiculite. It is available as both a free-flowing dry powder and as aqueous colloidal dispersions. The vermiculite dispersions fall into two broad categories: unformulated and formulated products. The unformulated products consist only of vermiculite and water. They are highly heat- and flame-resistant and produce virtually no off-gassing or smoke. In addition, these products are salt-free, and therefore are ideal for use in end products where corrosion is a concern.
MicroLite's easy application and our proprietary binders allow for direct application on fabrics and other industrial materials to provide a fire-rated material.
For many applications, the coatings are wholly inorganic and will not release any harmful vapors or fumes on exposure to heat or
flame. In some applications, products with a small amount of nonhalogen containing organic additive are used to improve specific end-use textile properties such as flexibility, and resistance to abrasion and fraying. All products provide comparable fire resistance improvements when used in accordance with the recommendations of Specialty Vermiculite Corp.
Specifications
Specialty Vermiculite's MicroLite vermiculite dispersions are stable dispersions of vermiculite in water. They are produced by the chemical exfoliation of vermiculite, a naturally occurring magnesium aluminum-silicate mineral. The resulting high aspect ratio vermiculite platelets are then suspended in water. Because of the many unique features of this product, MicroLite dispersions offer numerous benefits when used as films, fillers, coatings or binders.
MicroLite is a hydrous phyllosilicate mineral: (Mg,Fe2,Fe3) 3(Al,Si) 4(OH2) 4H20
Features include:
Non-Hazardous
REACH exempt
Inert
Inorganic
Low SG 2.4-2.7 when expanded
Lower bulk density 70kg -110kg/Mt in its expanded state
Low Mohs hardness
High-temperature resistance up to 1400°c
High aspect ratio platelets up to 20,000/1
Dv50 circa 30 microns
MicroLite Products for Personal Protective Equipment
The MicroLite water-based coating product line consists of seven different products each designed to offer specific benefits to the end-user. Two options for enhancing personal protective equipment include:
MicroLite HTS – 100% inorganic dispersion with 15% solids and viscosity of 4000 – 9000 cps. The higher solids provide greater add-on and make this product attractive for use as a coating to upgrade the heat and fire resistance of many materials.
MicroLite 923 – a refined dispersion with higher purity than 903 and HTS at 7.5% solids and a typical viscosity of 200 – 700 cps. Its finer particle size and reduced "grit" results in improved barrier properties and tensile strength. Intended for use in high-performance applications where properties other than or in addition to increased service temperature are desired.
Request Your Free Sample of MicroLite for Personal Protective Equipment Applications and More
Specialty Vermiculite Corp is a Dicalite Management Group brand. Our knowledgable team is standing by, ready to help you discover how MicroLite vermiculite dispersions can be used to improve your products. Applications go beyond personal protective equipment, including oxidation resistant coating on carbon-based composites, high-temperature binder and barrier materials, protective coating or sizing for glass fibers, and paints and coatings. Call us today at 866-728-3303, option 2, or email marketing@dicalite.com to learn more about MicroLite and request your free sample.
Join Our Mailing List
Our blog offers insight and information about new and exciting uses for perlite, diatomaceous earth, and vermiculite deriving from years of research and application. From passive fire resistance to mineral depth filtration, by subscribing to our mailing list, you will receive the latest information surrounding the Dicalite, Dicaperl, and Specialty Vermiculite brands and products.