Automotive Fire Protection and Friction Materials
How Vermiculite Can Be Used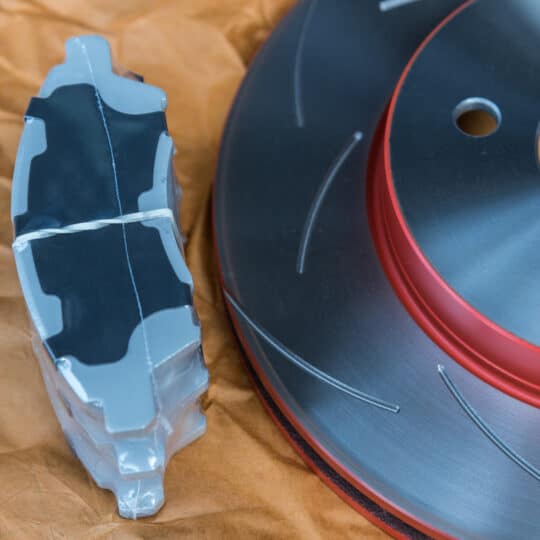 Specialty Vermiculite planned to attend SAMPE 2020—North America's Premier Advanced Materials & Process Engineering Conference & Exhibition—this year to discuss the use of vermiculite to impart fire and friction protection in automotive and aerospace applications. Like many other conferences, it was canceled. Since we can't share the information in person, today we are going to take a look at how vermiculite can be used for automotive and aerospace fire and friction protection to help products meet rigid safety requirements.
Safety Requirements for Automotive and Aerospace Manufacturers
Safety is the number one priority for automotive and aerospace manufacturers. When designing vehicles and their components, each piece needs to be carefully designed with safety in mind. Using flame-retardant materials is particularly important for the automotive industry where fire is a severe possibility in the event of an accident or malfunction. In an emergency situation, fire-blocking materials can be the difference between life and death. When it comes to user safety, you can't delay in developing fire protection and friction-safe products for automotive and aerospace applications.
MicroLite Vermiculite Dispersions: High-Temperature Safety Fabrics
MicroLite is produced by the chemical exfoliation of vermiculite. Vermiculite dispersions are stable dispersions of vermiculite in water. They are produced by the chemical exfoliation of vermiculite, a naturally occurring magnesium aluminum-silicate mineral.
Fire Protection
MicroLite vermiculite dispersions have high-temperature resistance up to 1400°c. MicroLite's easy application and our proprietary binders allow for direct application on fabrics and other industrial materials to provide a fire-rated material. This makes vermiculite dispersions a flexible option for imparting fire resistance to nearly all automotive and aerospace fabrics, like seat covers.
MicroLite Specifications
Specialty Vermiculite's MicroLite vermiculite dispersions are stable dispersions of vermiculite in water. They are produced by the chemical exfoliation of vermiculite, a naturally occurring magnesium aluminum-silicate mineral. The resulting high aspect ratio vermiculite platelets are then suspended in water.
MicroLite is a hydrous phyllosilicate mineral: (Mg,Fe2,Fe3) 3(Al,Si) 4(OH2) 4H20
Features include:
Non-Hazardous
REACH exempt
Inert
Inorganic
Low SG 2.4-2.7 when expanded
Lower bulk density 70kg -110kg/Mt in its expanded state
Low Mohs hardness
High-temperature resistance up to 1400°c
High aspect ratio platelets up to 20,000/1
Dv50 circa 30 microns
Fine Particle Size Vermiculite (FPSV): Automotive Fire Protection for Friction Linings
A friction material is any type of woven or non-woven material designed to create or facilitate a particular contact interaction between parts. In the automotive industry, that contact interaction is usually greater friction. To function properly, friction materials must meet a number of performance standards, namely high-energy absorption requirements—which, in the case of most automotive applications, means heat resistance and a high-coefficient of friction are needed. Friction materials are most frequently used in braking systems and clutches. These materials are used to allow the proper functioning of:
Brake bands
Brake blocks
Brake facing
Brake lining
Brake pads
Disc brake pads
Brake shoes
Clutch discs
Clutch facing
Clutch sets
Dual clutch assemblies
Both organic and inorganic high-performance materials such as polyimide, aramid, graphite, ceramic, and others have been developed for automotive applications. While each of these materials has merit in commercial automotive, friction lining, and gasket applications, no single material has been found to be adequate, and it is common practice to use a multiplicity of substances to develop such products. While vermiculite has a similar structure to exfoliated graphite, it does not oxidize and is therefore very appropriate for automotive applications.
About Fine Particle Size Vermiculite
Fine Particle Size Vermiculite (FPSV) is produced by thermal exfoliation in specially designed furnaces at ~1500°F  where it expands up to 11 times in volume. The expanded vermiculite is then purified to remove contaminants and further processed to consistently meet particle size and bulk density requirements. Qualities include:
High thermal stability
Large surface area
Excellent resin compatibility
Low Mohs hardness
Lightweight
Insulating capability
Consistent particle size
Controlled moisture content
Chemically inert
Free-flowing powder
Platy (flat-plate) morphology
See You At SAMPE 2021!
SAMPE is already scheduled for next year. It is taking place in Long Beach, California May 24 through 27. We encourage you to join us to learn more about advanced materials and process engineering. Attendees directly engage with domestic and international buyers, manufacturers, and suppliers from the aerospace/aircraft, automotive, marine, energy and other industries. It includes a variety of programs that engage and educate on ground-breaking technologies, industry advances, and provide opportunities to source solutions for critical challenges.
Request Your Free Sample of MicroLite or FPSV for Automotive and Aerospace Fire Protection.
Specialty Vermiculite Corp is a Dicalite Management Group brand. Our knowledgable team is standing by, ready to help you discover how MicroLite vermiculite dispersions and fine particle size vermiculite (FPSV) can be used to improve your products. Call us today at 866-728-3303, option 2, or email marketing@dicalite.com to learn more about MicroLite and request your free sample.
Join Our Mailing List
Our blog offers insight and information about new and exciting uses for perlite, diatomaceous earth, and vermiculite deriving from years of research and application. From passive fire resistance to mineral depth filtration, by subscribing to our mailing list, you will receive the latest information surrounding the Dicalite, Dicaperl, and Specialty Vermiculite brands and products.