Biopharmaceutical Filtration
How Diatomaceous Earth and Perlite Are Used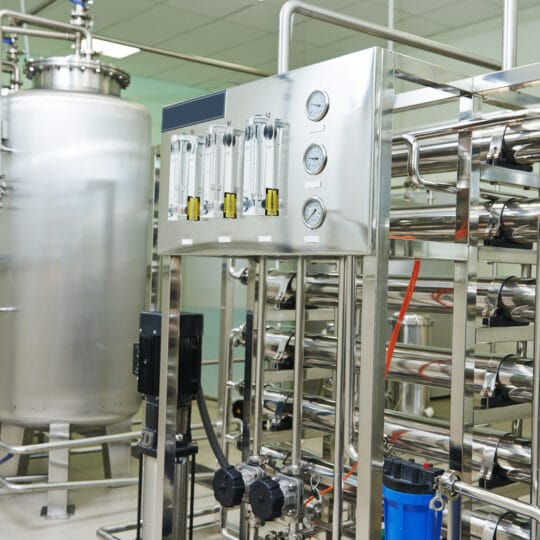 Some of the most impactful filtration applications of diatomaceous earth and perlite are for the biopharmaceutical industry from blood plasma fractionation to the reduction of contaminating DNA. Today, we're taking a look at how diatomaceous earth and perlite are used in biopharmaceutical filtration.
Biopharmaceutical Filtration
There are many instances in which filtration is an important step in biopharmaceutics. Applications include but are not limited to:
Blood plasma fractionation
Haze removal
Endotoxin reduction
Final sterile membrane protection
Buffer/solvent prefiltration
Chromatography column protection
Post-fermenter clarification/cell separation
Reduction of contaminating DNA
Depth filtration methods are often used to handle these applications. Mineral filter aids can be used in this manner, as the process is mechanical and not chemical in nature. This filtration method requires the liquid to flow through a porous filter media, like diatomaceous earth or perlite, which trap the unwanted solids.
Minerals for Biopharmaceutical Filtration
Diatomaceous Earth
Diatomaceous Earth is a form of silica that has been used as a filter aid for nearly a century. It is composed of the diatoms, skeletons of microscopic plants, deposited on the bottom of oceans and lakes from 100,000 to 15,000,000 years ago. If you viewed diatomaceous earth through a microscope, you would see diatoms have a wide variety of shapes and a honeycomb-like structure that capture solids. Diatomaceous earth filter cakes are revered for the numerous filtration benefits, including:
Extended flow rate
Light weight, low density
Inert state
Maintains the free flow of liquid
Diatomaceous earth is used for the filtration of antibiotics and other active enzymes, proteins, and contaminants in pharmaceuticals.
Perlite
Perlite is an amorphous mineral consisting of fused sodium potassium aluminum silicate. In its natural state, it's a dense, glassy rock formed by volcanic rock. Crushed expanded perlite particles present a maze of microscopic pathways that can be used for filtration in a variety of industries and products, including the biopharmaceutical industry. It is revered as a depth filtration method because of its numerous benefits, including:
Ease of application
Inert state
Insoluability
Useable with standard equipment
Lower weight than other types of filters
Filter cakes remain porous and do not compact
Perlite is used in other pharmaceutical applications including the filtration of enzymes, antibiotics, and Epsom salt.
Two Filtration Methods: Pre-Coat and Body Feed
There are two ways to use perlite and diatomaceous earth for biopharmaceutical filtration: pre-coat and body feed. Sometimes, both methods are used, which can create a more clarified product.
Pre-Coat: The pre-coat process requires water to be mixed with your filter aid, like perlite or diatomaceous earth. As the mixture flows through the filter cloth, your mineral coats the top, setting the stage for filtration.
Body Feed: Body feed filtration is used throughout the entire filtration process, unlike the pre-coat that is simply set up in the beginning. Your mineral filter aid is held in a different tank and then metered continuously into your slurry line to filter throughout the entire filtration process.
Body Feed Filtration Study Results
Rentschler Biotechnologie and Sartorius Stedim Biotech completed pilot-scale production tests to evaluate body feed filtration (BFF) technology using diatomaceous earth for manufacturing applications and determined body feed filtration provides enhanced bioprocessing. Results of the study include:
Using highly porous diatomaceous earth creates a more permeable filter cake for filtration, which prevents blockage.
The amount of diatomaceous earth required varies based on particle concentration. For a variety of tested cultures, media, and viabilities, the optimum diatomaceous earth concentration was found to be 40-50% of the wet cell weight. This could be reduced to 20-30% if the pH was lowered to 5. (Diatomaceous earth's natural pH is around 8.5)
Dicalite Management Group Offers Minerals for Biopharmaceutical Filtration
We offer various grades of perlite for high-quality filter aid use and there are many options for diatomaceous earth filtration. Use our Product Search Database to search and find your mineral solution and all the technical information related to it. At any moment in time, you can access our products' Technical Data Sheets (TDS), Safety Data Sheets (SDS), and sales support materials (when applicable). Finding the right mineral solution is easy: simply apply filters so you only see the products relevant to you.
If you'd like to learn more about using minerals for filtration, download our free e-book A World of Filtration Experience today.
Join Our Mailing List
Our blog offers insight and information about new and exciting uses for perlite, diatomaceous earth, and vermiculite deriving from years of research and application. From passive fire resistance to mineral depth filtration, by subscribing to our mailing list, you will receive the latest information surrounding the Dicalite, Dicaperl, and Specialty Vermiculite brands and products.