Fire-Resistant Construction Using Vermiculite
New California Legislation Recommends Wildfire-Resistant Construction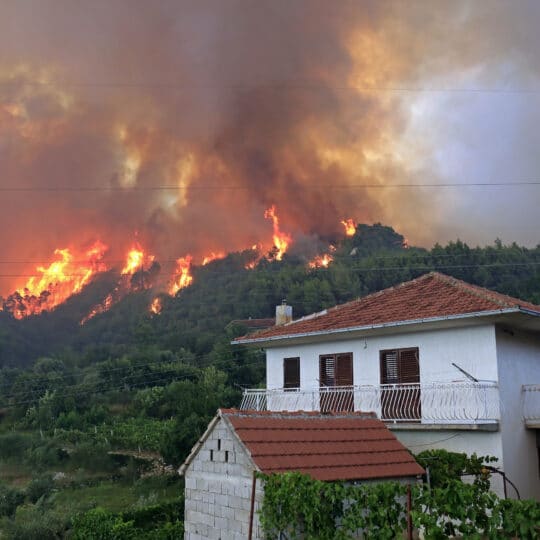 In recent years, wildfire instances have increased dramatically in California and have repeatedly devastated homes and businesses. To address the increasingly serious issue,  the state is issuing guidelines for building in more fire-susceptible areas. For example, new construction must use materials that offer at least one hour of fire resistance. Today, we're looking at how fire-resistant construction can be achieved with help from vermiculite dispersions.
Fire-Resistant Construction Using Vermiculite Dispersions
Vermiculite is a hydrated magnesium aluminum sheet silicate mineral closely related to mica, and has all of the thermal and chemical resistance mica is known for.  MicroLite is a hydrous phyllosilicate mineral: (Mg,Fe2,Fe3) 3(Al,Si)4 (OH2).4H20
Properties include:
Non-Hazardous
REACH exempt
Inert
Inorganic
Low SG 2.4-2.7 when expanded
Lower bulk density 70kg -110kg/Mt in its expanded state
Low Mohs hardness
High-temperature resistance up to 1400c
High aspect ratio platelets up to 20,000/1
Dv50 circa 30 microns
Vermiculite Fire Protection Applications
MicroLite vermiculite dispersions have high-temperature resistance up to 1400°c. MicroLite's easy application and our proprietary binders allow for direct application on fabrics and other industrial materials to provide a fire-rated material. This makes vermiculite dispersions a flexible option for imparting fire resistance to nearly all automotive and aerospace fabrics, like seat covers. Vermiculite is a highly regarded product within its industry and has been used as a fire-retardant surface coating for over 20 years. It is used to impart a high degree of fire protection to many products in a variety of industries. Its low density and impressive insulation properties make it useful in:
Building boards
Fire door cores
Encased ductwork
Steel building elements
Gypsum plasterboard
Cementitious spray
Fireproof fabrics
Thermal textiles
Aqueous Paint and Coating Systems
And more
The easy application and proprietary binders allow for direct application on fabrics and other industrial materials to provide a fire-rated material. Specialty Vermiculite is currently performing research that shows MicroLite can be used as a functional filler in aqueous paint and coatings systems to impart fire resistance. It is proving to be an impressive alternative to traditional products such as Mica Powder, Calcium Carbonate, and ATH. The potentials are numerous, helping paint manufacturers, formulators, and distributors provide fire-resistant products for their customers.
An impressive application: MicroLite can be used as a coating on a fiberglass mat. Even with temperatures immediately increasing above 1800°F, flames will not break through the MicroLite-coated fiberglass mat. The protection of the Microlite coating is clear as the back thermocouple stays well below 1100°F after 90 seconds of continuous burning. The Vermiculite Association explains, "Exfoliated vermiculite is very efficient at retaining moisture, and in the event of a fire, this turns to steam which has a cooling effect on the steel substrate and thus delays its temperature rise."
The vermiculite dispersions fall into two broad categories: unformulated and formulated products. The unformulated products consist only of vermiculite and water. They are highly heat- and flame-resistant and produce virtually no off-gassing or smoke. In addition, these products are salt-free, and therefore are ideal for use in end products where corrosion is a concern.
MicroLite's easy application and our proprietary binders allow for direct application on fabrics and other industrial materials to provide a fire-rated material.
For many applications, the coatings are wholly inorganic and will not release any harmful vapors or fumes on exposure to heat or
flame. In some applications, products with a small amount of nonhalogen-containing organic additive are used to improve specific end-use textile properties such as flexibility, and resistance to abrasion and fraying. All products provide comparable fire resistance improvements when used in accordance with the recommendations of Specialty Vermiculite Corp.
Request Your Free Sample of MicroLite Vermiculite Dispersions Today.
There is so much more you can do with vermiculite in addition to making fire-resistant construction. For more information on MicroLite, visit our product finder or contact Commercial Sales at Specialty Vermiculite today to find out how our vermiculite dispersions can work for your food packaging products. Our sales and technical services team work closely together to ensure you get the best product for your application. We'll also send you a free sample to get you started. Call us at 866-728-3303, option 2.
Join Our Mailing List
Our blog offers insight and information about new and exciting uses for perlite, diatomaceous earth, and vermiculite deriving from years of research and application. From passive fire resistance to mineral depth filtration, by subscribing to our mailing list, you will receive the latest information surrounding the Dicalite, Dicaperl, and Specialty Vermiculite brands and products.