Minerals in the Summer: How They Play a Part in Your Fun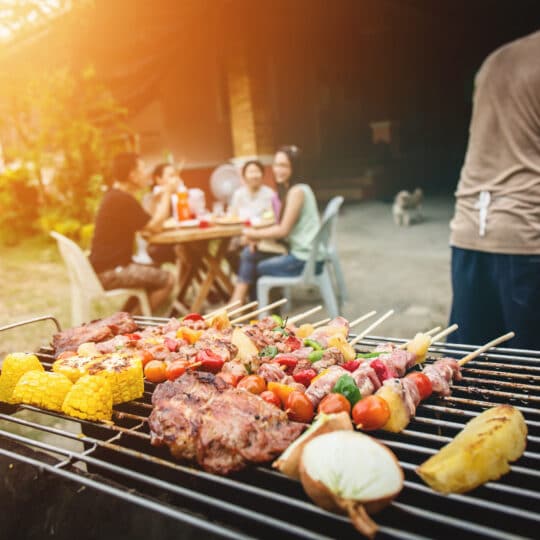 This Monday, many of us will be celebrating the unofficial start of summer. When you think of your Memorial Day barbecue, Friday night evenings on the patio with friends, or your kids splashing around in the pool, you probably don't realize how big of a role these minerals play in your summer fun. Learn where minerals fit in and how they help keep the good times going.
Minerals in the Summer: How They Play a Part in Your Fun
Anti-blocking Agents for Meat Packaging
Grilling: it's the epitome of summertime cooking. When you head to the store and pick up your ground beef or steak, did you know you might be holding a product made with help from the mineral diatomaceous earth? Diatomaceous earth (also known as DE) can be used to make plastic wrap! And fortunately for us, it's one of the things that makes cling wrap easier to use, preventing the frustration of it sticking to itself, wrinkling, and becoming utterly unmanageable.
Natural silica in the form of diatomaceous earth and magnesium silicate in the form of talc are the most common natural anti-blocking agents used to minimize film-to-film contact. Anti-blocking agents, as the name suggests, reduce the blocking force, providing a microscopic, rough barrier that minimizes the contact between adjacent plastic film surfaces. While there are a variety of options on the market, the best choices have low hardness, adequate adsorption properties, a low yellow index, and are bright. Diatomaceous earth is a top choice as an anti-blocking agent because it is:
Chemically inert
Inorganic
High brightness
Insulative properties
Irregular particle shape
Strong frustules
Maximum void space
Pool Filtration
Diatomaceous earth has a very small particle size, a high porosity, and crystalline structure, making it an excellent filter media for many applications from food and beverage products to pool water. When it comes to pool filtration, it is one of the most efficient on the market because it can trap particles down to the micron-level and keep the water healthy and looking crystal-clear.
Dicalite's industry-leading swimming pool filter powder is classified as Flux-Calcined Diatomaceous Earth. Diatomaceous Earth swimming pool powder can remove particles up to 10 times smaller (3-5um) than what a typical sand filter will remove (25-40um). It is used to remove impurities at a very high filtration flow rate, getting rid of algae, amoeba, bacteria, and other foreign matter quickly and thoroughly. Diatomaceous earth will keep your pool water sparkling and, as we like to say, "drinking pure."
Beer Filtration
Beer filtration removes yeast, tannins, and some large proteins that eventually settle to the bottom of a barrel, can, or bottle. While safe if consumed, there are a few problems with leaving beer unfiltered in cans or bottles:
The particles will mix back in with the beer and need to settle again when you move it around the stockroom, it's delivered to distributors, and your customer brings it home. If consumed or poured without letting it settle again, the consumer will have that hazy beer with particles mixed in with every sip.
The yeast, tannins, and proteins change the taste of your beer. How long can your brew be left on the shelf or in the fridge before the flavor changes and your customer has an inconsistent experience?
Although there are plenty of newer filtration technologies available to brewers today, diatomaceous earth remains the constant go-to beer filtration aid for many breweries, large and small. As all brewers know, filtering beer is challenging, and using the wrong filter aid can potentially change the taste and look of your beer. Some benefits of filtering beer with diatomaceous earth include:
Diatomaceous earth is completely natural and a mechanical—not chemical—filtration method.
It has a high solids holding capacity, allowing for much longer filter cycles (and more solids to be removed) than what would be possible with other filtration methods.
You can use it to positively change the characteristics of your brew! It's easy to adjust the filtration and flow, so you have yet another way to fill your beer with a unique personality. It leaves the artistry to you, not the limitations of your filtration method.
Gas Barriers for Chips & Other Snacks
Chips and other snack foods are a must-have at your barbecue and picnic. Minerals might also play a role in these summer snacks, too, by way of gas barriers that are widely used in packaging materials. Gas barriers prevent contact between the contents of a package and contaminants like gasses, odors, and pollution. Improving barrier properties is an important goal for manufacturers of films used for products such as foods, cosmetics, agricultural chemicals, and pharmaceuticals. Today we are going to look at the importance of gas barriers in food packaging.
The most common chemicals and compounds targeted for keeping out of packaging are oxygen, carbon dioxide, water vapor, aromatic hydrocarbons, residue, odor, flavors, smoke, environmental contaminants and more. Gas barriers are intended to maintain the quality of the product, including:
Keep gas inside the package
Keep moisture in the package to prevent the contents from dehydrating
Prevent moisture from entering the package
Keep perfume or flavor inside the packaging
Keep undesirable odors or flavors from entering or leaving the packaging
Unformulated MicroLite is simply vermiculite and deionized water. This water-based vermiculite dispersion is used to coat flexible packaging films. The high aspect ratio platelets are ideal in the formulation of nanosized layers, forming a tortuous path barrier for gases like oxygen. MicroLite's existence in this application can create 100 to 1,000 times improvement in gas barriers. This is imperative for common films like polyethylene plastic, polypropylene film, polyester, and polyethylene terephthalate, which have poor gas barrier properties.
One of Microlite's benefits is that it has a clearly defined positive and negative electrostatic charges on surfaces and edges. This method can help singularize the platelet layers, which is especially important for film packaging and coating manufacturers.
Minerals for Gardening Support in the Spring and Summer
Minerals can help make your summer hobby more fruitful! For decades, agronomists and horticulturists have been using perlite and diatomaceous earth to help their plants grow better. Now, it's easier than ever for even casuals growers to grow great. Our team of engineers, operations personnel, and agronomists have utilized these very minerals to develop a patent-pending, 3-in-1 soil amendment offered by our first-ever direct-to-consumer brand Harvest Hero. The innovative Enhanced Perlite Mix features a unique, proprietary blend of perlite, diatomaceous earth, and essential nutrients that support growth for a variety of plants.
One of the most important benefits of expanded perlite is that it provides space for both air and water within a soilless mix. It retains water in three ways: in between individual grains, in channels leading to the cores of the grains, and on the highly irregular surfaces of each particle. This naturally occurring mineral also maintains consistent aeration and drainage for plant roots, prevents compaction, will not decompose over time and deplete soil nitrogen, has a neutral pH, and is free from weeds.
Diatomaceous earth (DE) is the naturally occurring fossilized remains of diatoms and is a near-pure sedimentary deposit consisting almost entirely of silicon dioxide, one of the world's most abundant elements. Plant Available Silica (PAS) is translocated to the plant's cell wall, improving structural integrity to help combat abiotic and biotic plant stressors like pests and disease and promotes the resilience of young plants.
Choose Dicalite Minerals for Your Summer Fun and Beyond.
Diatomaceous earth, perlite, and vermiculite are all helpful minerals in the summer while you are planning your fun, but they are found in products you use year-round! There are so many touchpoints in our lives, from cosmetics to oil filtration to construction and beyond. Use our product finder to help you discover how the unique mineral offerings at Dicalite Management Group can help improve your products and life. You can also call us today at 866-728-3303 to speak to one of our mineral experts.
Join Our Mailing List
Our blog offers insight and information about new and exciting uses for perlite, diatomaceous earth, and vermiculite deriving from years of research and application. From passive fire resistance to mineral depth filtration, by subscribing to our mailing list, you will receive the latest information surrounding the Dicalite, Dicaperl, and Specialty Vermiculite brands and products.