Celebrating Earth Day 2021:
Our Environmental Responsibility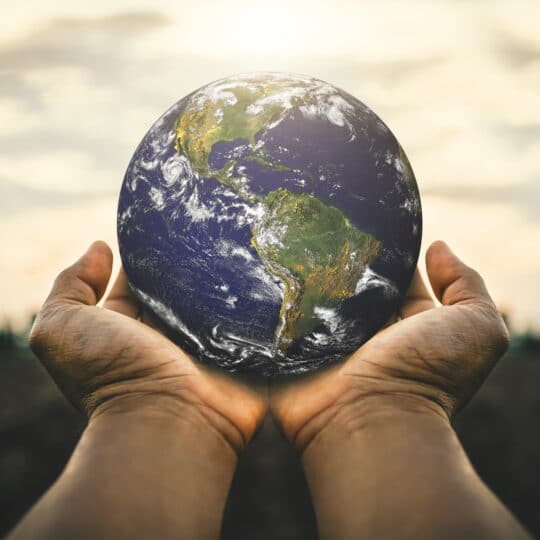 Each year, Earth Day focuses on different themes to open conversation and encourage actionable change. This year's theme is Restore Our Earth. Some of the talking points and topics being discussed include innovative thinking, reforestation efforts, climate and environmental literacy, and environmental justice. At Dicalite Management Group, environmental responsibility has always been a top priority, and our processes and mineral product offerings support the health of our environment. Learn about our contributions to this Earth Day's theme and topics.
Dicalite's Environmental Responsibility
Innovative Thinking and Education
Innovative thinking can restore the world's ecosystems. While some people might think about planting more trees or recycling plastics, at Dicalite Management Group, we recognize the many environmental benefits of minerals, like perlite.
The Perlite Institute is a top resource for learning about the contributions perlite makes to the environment.
Perlite can be used as a filter to clean stormwater runoff and hazardous waste spills, helping to protect land, waterways, and local plants and animals.
Perlite is used in horticulture as a substitute for native mineral soil, which can help preserve the world's topsoil.
The global perlite industry actively mines a total of less than three square miles, which is just a small fraction of what is available.
In the past 60 years, less than 1% of the reserve base has been used, so known reserves of perlite are expected to last for generations.
Perlite mining has a limited environmental impact. There is little overburden to manage and minimal waste. Plus, no chemicals are used in processing perlite.
Perlite Institute mining members actively reclaim and restore mined sites to their original biological status.
Expanded perlite is used as insulation in high-temperature and supercooled applications. Its excellent insulating qualities are also used in the construction industry to insulate floors, walls, and roofs of homes and businesses to reduce the electricity needed to manage temperature fluctuation.
Climate Restoration Technologies & Reforestation Efforts
Our environmental responsibility goes beyond providing earth-friendly solutions for our customers. At Dicalite Management Group, we have many processes in place to ensure our healthy contributions to the environment.
Revegetation
While revegetation would occur naturally after mining, we play an active role in restoring the environment. Local plant communities have adapted to growing in diatomite soils. After mining, waste diatomite and inter burden are covered with soil to aid revegetation. These areas are first planted with various grasses, then successive plantings of diverse species of trees. Each year, we plant well over 2,000 trees in active reclamation areas, including local species of pines, firs, Incense Cedar, and oaks.
Dust Control
Dust production is a side effect of mining. We control the accumulation of dust by water trucks and water wagons on a scheduled and recorded basis, using reclaimed water from mine runoff and stormwater whenever possible to reduce valuable water resources. Plus, permanent roads are treated to further reduce dust.
Rainfall-Runoff
Rainfall-runoff in the plant and quarries is controlled in many ways. Abandoned areas are revegetated to promote water retention. Where rain runoff occurs, slopes are engineered to reduce erosion. As a final check, all runoff is collected in siltation ponds to collect any debris or suspended material. The treated water is discharged to the local water sources in strict accordance with Water Quality Permit standards.
Specialty Vermiculite Land Reclamation
Specialty Vermiculite leases properties for mining as well as mining company-owned properties. Many of our leased properties previously have been farmed or used for commercial timber growth. We work with landowners to reclaim all mining activities to best suit future needs. Mine reclamation involves contouring mined areas to a gentle, useable final slope, minimizing erosion on mined and reclaimed areas, and establishing permanent vegetative cover crops.
For example, working with Laurens County, SC, Specialty Vermiculite mined a county-owned property. Once mining was complete, we began reclamation efforts, ultimately creating a recreation park environment for county residents. The park includes several baseball and soccer fields, as well as grassed recreation areas for leisure activities.
Climate and Environmental Responsibility Literacy
Minerals are a niche market. We find it is our responsibility to educate the people who use minerals for production and the people who use products featuring minerals (who might not even know it!), about the many environmental benefits. We use our blog posts and white papers to open the conversation to the many ways our minerals and techniques provide natural solutions to everyone who uses them. A few of Dicalite Management Group's original resources include:
Environmental Justice
In order to make biodiesel, it must be filtered to get rid of phosphorous and soaps, two of the main impurities. This is because they congeal in the filter fibers, reduce throughput, cause clogs, and increase the time it takes for producing. Also, when soap burns, it leaves behind an ash residue in your engine. Diatomaceous earth and perlite are two filter aids that can be used for processing biodiesel to produce cleaner fuels.
Our filter aids are light in weight, chemically inert, and form high porosity filter cakes to maintain a free flow of the liquid. The structure of the particles must be such that they will not pack too closely. This not only permits high initial liquid flow but also provides pore spaces to trap and contain the filterable solids and leave a high percentage of channels remaining open for flow. Particle size distribution must be tailored to permit precoating on coarse wire and yet give the desired flow rate and clarity. Diatomaceous earth and perlite are widely used materials that meet these criteria.
Choose Dicalite Management Group for Your Mineral Needs.
Our unique offering of diatomaceous earth, perlite, and vermiculite ensures there is a mineral to meet nearly every need in a variety of industries. Use our product finder database to find safety data sheets and more information about all our mineral products and how you can use them to help make the earth a healthier place.
Join Our Mailing List
Our blog offers insight and information about new and exciting uses for perlite, diatomaceous earth, and vermiculite deriving from years of research and application. From passive fire resistance to mineral depth filtration, by subscribing to our mailing list, you will receive the latest information surrounding the Dicalite, Dicaperl, and Specialty Vermiculite brands and products.