Harvest Hero's New Direct-to-Grower Website & 2022 Distributors
---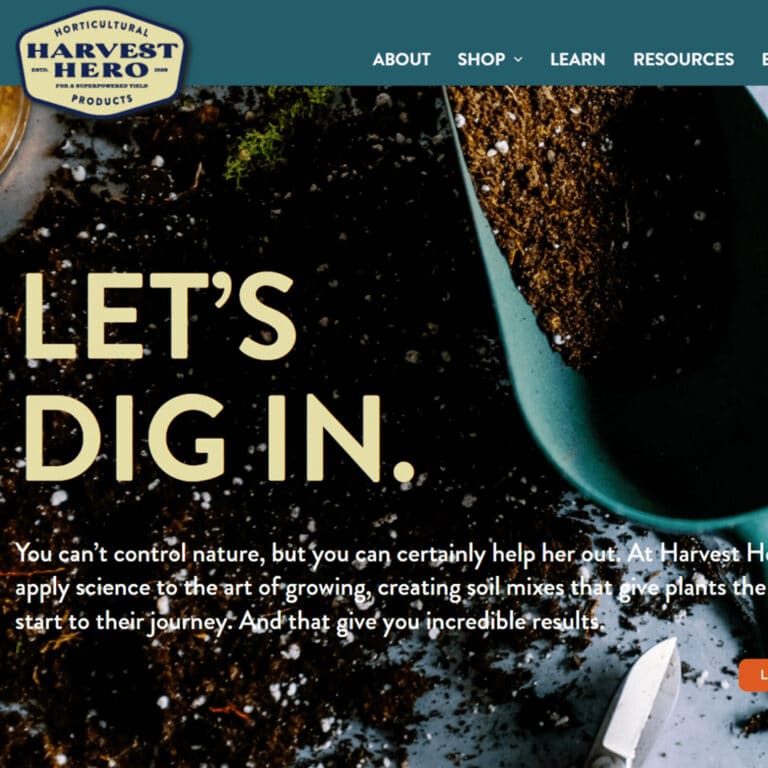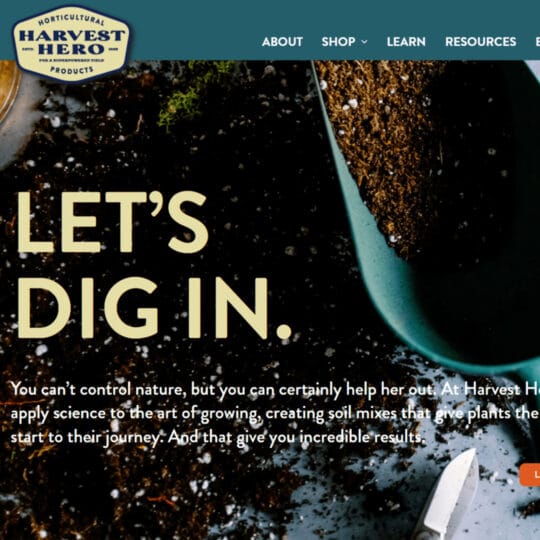 Last year, we introduced our first-ever, direct-to-consumer brand Harvest Hero. We debuted with one product: Enhanced Perlite Mix. This soil media mix features a 3-in-1 formula of diatomaceous earth, perlite, and essential nutrients that, when combined, help growers grow bigger and better with proven results. Since then, we have introduced numerous other products designed to help home and professional growers for whatever plants they are growing, from cantaloupe to corn and cannabis to carnations. As the company continues to grow, we are proud to announce big changes including a new website featuring updated branding and more growers' resources in addition to a growing list of distributors to make it easier than ever for customers to grow great.
Head over to harvesthero.com, and you might notice things look a little different. The updated website features our new branding, additional growers' resources, and a new product:
New Branding: We are proud to introduce new branding that better reflects the numerous benefits of our growing product list. While our initial products were first renowned for their ability to support cannabis growth proven through extensive testing results, we discovered growers of all plants were enjoying the fruits of their labor when using our mineral-based products. Our branding now better serves all growers, no matter what they are growing.
Additional Growers' Resources: Harvest Hero products are designed to support gardeners in all stages of their growing journey. We also want to support them beyond the moment they utilize our offerings. We are expanding our growers' resources to provide guides and research that helps novice gardens and those who have years of experience growing.
Our New Product: The launch of our new website and branding coincides with the introduction of our latest product: Natural Soil Conditioner+ Diatomaceous Earth. In addition to conditioning your soil choice, this product provides plant-available silicon that helps your plants grow stronger down to a cellular level.
2022 Harvest Hero Distributors
Customers will continue to be able to purchase Harvest Hero products directly from the website, but now Harvest Hero can be found at some of the top retailers and distributors to make it easier than ever for customers to grow great.
BFG Supply has a long history of serving the Green Industry of professional growers, lawn and garden centers, landscapers, and indoor growing stores. The company prides itself in providing a broad product range and innovative solutions, which now include Harvest Hero products. We are excited to partner with BFG to make our offerings more accessible to a wider audience.
Harvest Hero products are designed to help growers grow further, indoors and outdoors with any soil or soilless media, so we are thrilled to partner with Growershouse, one of the world's largest hydroponics and indoor gardening suppliers. Growershouse shares many of the same values as Harvest Hero, with a goal of educating customers and offering a wide range of products to support novice growers to professional and large-scale growing operations.
You can even find Harvest Hero at Home Depot through the supplier Viagrow! This company provides organic soil amendments to support growers who value the ability to grow organically in their personal gardens.
Morton's Horticulture Products
Morton's is a manufacturer and supplier of greenhouse and high-quality soil mixes for the nursery and greenhouse industry. We are proud to partner with this local establishment in the "nursery capital of the world" to make Harvest Hero available to more growers.
Gulf Coast Chemical Corporation
Gulf Coast Chemical is a supplier of raw materials, resins, equipment, and technical assistance to the Southeast industrial community. This supplier takes pride in partnering with the finest manufacturers—and now Harvest Hero is proud to be among these elite offerings.
What Hasn't Changed: Our Commitment to Quality
At Dicalite, we have always prided ourselves in providing customers with high-quality, consistent products. The same focus extends to our Harvest Hero products. While things might look a little different and there are more ways than ever to access our product, you can be confident you'll get the same product from bag to bag, ensuring consistent, predictable growth.
Dicalite Management Group is an international industrial minerals company with a unique multi-mineral platform including perlite, vermiculite, and diatomaceous earth, represented across four brands: Dicalite, Dicaperl, Specialty Vermiculite, and Harvest Hero.  
Join Our Mailing List
Our blog offers insight and information about new and exciting uses for perlite, diatomaceous earth, and vermiculite deriving from years of research and application. From passive fire resistance to mineral depth filtration, by subscribing to our mailing list, you will receive the latest information surrounding the Dicalite, Dicaperl, and Specialty Vermiculite brands and products.