Celebrating Earth Day 2022: Invest In Our Planet
---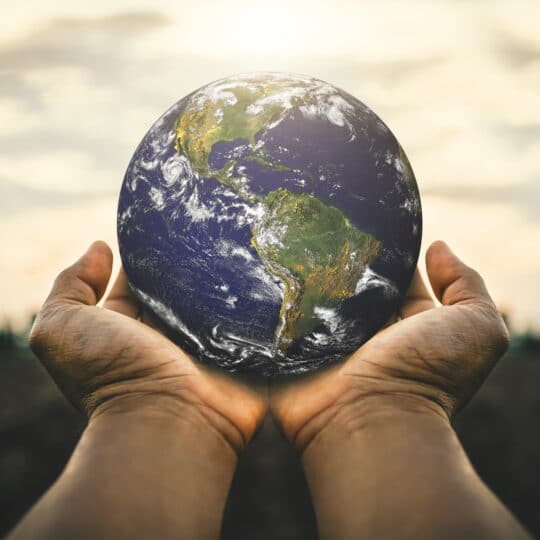 Each year, Earth Day has a new theme to encourage people to support the environmental health of our planet. The theme for Earth Day 2022 is Invest In Our Planet. What does that mean? Together, we need to act boldly, innovate broadly, and implement equitably. At the root of it all is the belief that sustainability is the path to prosperity. Learn how Dicalite Management Group is part of a partnership for the planet in honor of Early Day 2022.
Celebrating Earth Day 2022: Invest In Our Planet
Act: Take Action Against Pollutants
Industrial Wastewater
A quarter of humanity faces a looming water crisis. 17 countries are currently under severe water distress. Wastewater recycling is one way cited to combat the grave issue. Diatomaceous earth and perlite—two minerals Dicalite Management Group knows well—can be used to help filter industrial wastewater.
Diatomaceous earth is used as a precoat filtration technology. It is based on the mechanical separation of solids from liquids to reduce TSS and insoluble content. The clarified liquid passes through the diatom's intricate but porous structure while the solids are trapped in the diatomaceous earth precoat. The leftover solids are then disposed of responsibly.
Perlite plays an important role in municipal and industrial water treatment systems where it is used in conjunction with a rotary vacuum drum filter to remove solids and other contaminants from polluted wastewater. Perlite filter cakes remain porous and do not compact. Filter cakes built up under pressure release easier when perlite is used. This release facilitates easier cleaning, potentially reduces manpower requirements and costs, and increases productivity. Plus, the lower weight of perlite filter cakes may also reduce disposal costs.
Recycled Packaging
MicroLite vermiculite dispersions are applied as a coating in flexible plastic films used for a variety of packaging. Today, MicroLite dispersions are one of the very few materials in qualification for recyclable flexible packaging.
This water-based vermiculite dispersion is used to coat flexible packaging films. The high aspect ratio platelets are ideal in the formulation of nanosized layers, forming a tortuous path barrier for gases like oxygen. MicroLite's existence in this application can create 100 to 1,000 times improvement in gas barriers. This is imperative for common films like polyethylene plastic, polypropylene film, polyester, and polyethylene terephthalate, which have poor gas barrier properties.
Spilled Oils and Other Hazards
Diatomaceous earth's abrasive and absorbent qualities facilitate containment, cleanup, and removal of liquids—of both large and small quantities. It can be used to clean up massive oil spills or smaller environmental hazards. It absorbs liquids and semi-liquids, including oils, grease, water, battery and other acids, anti-freeze solutions, syrups, and many more. Liquids once absorbed will not be released, and diatomaceous earth sweeps up readily without sticking to floors or equipment. It meets U.S. Government specifications for oil absorbents. Diatomaceous earth's high absorbency, combined with the greater coverage per pound, makes DE the most efficient absorbent of this type available.
Innovate: Innovate with Minerals
Innovation can restore the world's ecosystems. While some people might think about planting more trees or recycling plastics, at Dicalite Management Group, we recognize the many environmental benefits of minerals, like perlite.
Perlite can be used as a filter to clean stormwater runoff and hazardous waste spills, helping to protect land, waterways, and local plants and animals.
Perlite is used in horticulture as a substitute for native mineral soil, which can help preserve the world's topsoil.
The global perlite industry actively mines a total of less than three square miles, which is just a small fraction of what is available.
In the past 60 years, less than 1% of the reserve base has been used, so known reserves of perlite are expected to last for generations.
Perlite mining has a limited environmental impact. There is little overburden to manage and minimal waste. Plus, no chemicals are used in processing perlite.
Perlite Institute mining members actively reclaim and restore mined sites to their original biological status.
Expanded perlite is used as insulation in high-temperature and supercooled applications. Its excellent insulating qualities are also used in the construction industry to insulate floors, walls, and roofs of homes and businesses to reduce the electricity needed to manage temperature fluctuation.
The Perlite Institute is a top resource for learning about the contributions perlite makes to the environment.
Implement: Our Earth Day 2022 Commitment to Sustainability
Our environmental responsibility goes beyond the Earth Day 2022 goals and providing earth-friendly solutions for our customers. At Dicalite Management Group, we have many processes in place to ensure our healthy contributions to the environment.
Revegetation. While revegetation would occur naturally after mining, we play an active role in restoring the environment. Local plant communities have adapted to growing in diatomite soils. After mining, waste diatomite and inter burden are covered with soil to aid revegetation. These areas are first planted with various grasses, then successive plantings of diverse species of trees. Each year, we plant well over 2,000 trees in active reclamation areas, including local species of pines, firs, Incense Cedar, and oaks.
Dust Control. Dust production is a side effect of mining. We control the accumulation of dust by water trucks and water wagons on a scheduled and recorded basis, using reclaimed water from mine runoff and stormwater whenever possible to reduce valuable water resources. Plus, permanent roads are treated to further reduce dust.
Rainfall-Runoff. Rainfall-runoff in the plant and quarries is controlled in many ways. Abandoned areas are revegetated to promote water retention. Where rain runoff occurs, slopes are engineered to reduce erosion. As a final check, all runoff is collected in siltation ponds to collect any debris or suspended material. The treated water is discharged to the local water sources in strict accordance with Water Quality Permit standards.
Specialty Vermiculite Land Reclamation. Specialty Vermiculite leases properties for mining as well as mining company-owned properties. Many of our leased properties previously have been farmed or used for commercial timber growth. We work with landowners to reclaim all mining activities to best suit future needs. Mine reclamation involves contouring mined areas to a gentle, useable final slope, minimizing erosion on mined and reclaimed areas, and establishing permanent vegetative cover crops. For example, working with Laurens County, SC, Specialty Vermiculite mined a county-owned property. Once mining was complete, we began reclamation efforts, ultimately creating a recreation park environment for county residents. The park includes several baseball and soccer fields, as well as grassed recreation areas for leisure activities.
Our unique offering of diatomaceous earth, perlite, and vermiculite ensures there is a mineral to meet nearly every need in a variety of industries. Use our product finder database to find safety data sheets and more information about all our mineral products and how you can use them to help make the earth a healthier place in honor of Earth Day 2022 and beyond.
Join Our Mailing List
Our blog offers insight and information about new and exciting uses for perlite, diatomaceous earth, and vermiculite deriving from years of research and application. From passive fire resistance to mineral depth filtration, by subscribing to our mailing list, you will receive the latest information surrounding the Dicalite, Dicaperl, and Specialty Vermiculite brands and products.