Visit Dicalite at This Season's Top Tradeshows: Techtextile & Cultivate'22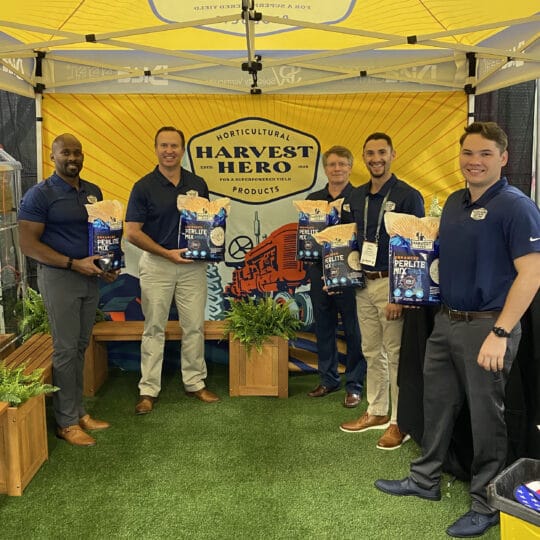 Our flights and hotels are booked! We're heading to some of the top tradeshow conferences this season so we can learn about the latest and greatest in the textile and horticulture industries and share the many uses of our mineral offerings. Whether you have the chance to visit Dicalite at the following Spring/Summer 2022 regional and national trade conferences, or you're learning from home this year, discover how minerals support these industries.
Visit Dicalite at This Season's Top Tradeshows: TechTextile & Cultivate'22
TechTextile Conference: May 17 – 19, 2022
TechTextil is North America's only dedicated tradeshow exclusively for technical textiles and nonwovens. This conference is designed to educate and bring together all players in the industry to share research, developments, raw materials, production processes, and conversations.
How Minerals Help This Industry
Minerals can play a significant role in the production of woven and non-woven textiles, from fabrics to concrete and construction pretreatment to flocking. In fact, there are many textiles you use every day that might be made with help from minerals:
MicroLite vermiculite dispersions have high-temperature resistance up to 1400°c, making them great for the textile industry. MicroLite's easy application and our proprietary binders allow for direct application on fabrics and other industrial materials to provide a fire-rated material. This makes vermiculite dispersions a flexible option for imparting fire resistance to nearly all fabrics, like fire-resistant blankets, automotive equipment, and personal protective equipment.
Perlite is a lightweight mineral that safely be used over a wide range of temperatures, making it useful for a variety of industrial applications. Perlite is used in ladel topping, ceiling tiles, pipe insulation, joint compound, roofing board, and more.
You will also find diatomaceous earth in many textile products. For example, diatomaceous earth is well-known for being a supplementary cementing material in concrete mixes and as an admixture for improving concrete properties.
AmericanHort Cultivate'22: July 16- 19, 2022
Conference Details
Cultivate is the horticulture industry's must-attend event. Attendees get to learn best practices through educational seminars and workshops. Plus, it offers the opportunity to foster business connections and prepare for the future. Dicalite is exhibiting at Cultivate this year for the product category of soil and soil amendments.
How Minerals Help This Industry
For decades, Dicalite Management Group has been serving the horticultural industry with our multi-mineral offering to help soil blenders and commercial growers improve their growth. Recently, we have developed direct-to-consumer products with help from engineers, operations personnel, and agronomists to help home growers achieve great growth:
Harvest Hero Enhanced Perlite Mix: This breakthrough 3-in-1 patent-pending formula is perfect for cannabis, vegetables, and any other potted plants. The revolution mix consists of medium-grade perlite, essential nutrients, and diatomaceous earth. It prevents compaction, improves drainage, increases airflow, provides silica, and supports robust growth.
Harvest Hero Perlite+ Silica: Use this natural soil substrate to improve plant growth and improve soil conditions for better plant mass. It prevents compaction, improves drainage, and increases airflow while also providing soluble silica which helps combat abiotic stress.
Harvest Hero Hydroponic Perlite: This mix is a superior substrate designed specifically for hydroponic systems or can be used in containers and garden plants for robust and vigorous growth. It increases oxygen uptake, supports lush growth, and reduces water costs.
Later this year, we will unveil their Natural Soil Conditioner products containing our industry-leading diatomaceous earth. Harvest Hero's products are backed by science and industry-leading universities like NC State University and the University of KY.
Skipping This Year's TechTextile & Cultivate'22?
Even if you don't have plans to visit Dicalite at these trade conferences this year, our knowledgeable team is always standing by, ready to answer your questions about our mineral offerings. And we'd be happy to send you a free sample! Call us today at 866-728-3303.
Follow us on LinkedIn and Twitter to get updates about where we are, what we're presenting, and how to find us.
Join Our Mailing List
Our blog offers insight and information about new and exciting uses for perlite, diatomaceous earth, and vermiculite deriving from years of research and application. From passive fire resistance to mineral depth filtration, by subscribing to our mailing list, you will receive the latest information surrounding the Dicalite, Dicaperl, and Specialty Vermiculite brands and products.