Minerals and Alcohol: Wine Crush & Oktoberfest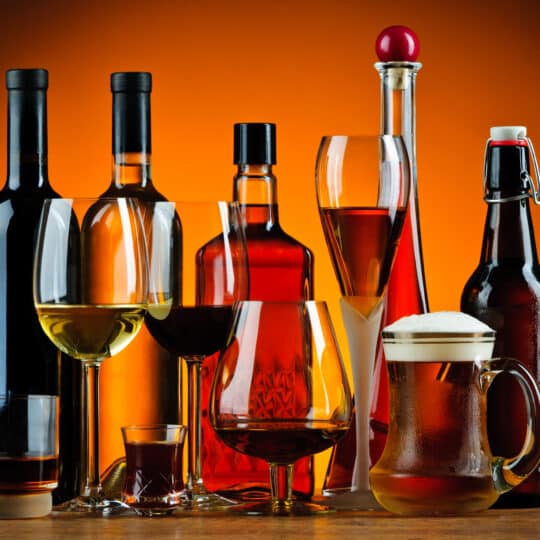 Whether you are a self-appointed sommelier, a beer enthusiast, or you dabble in both, one thing's for certain: it's the most thirsty time of the year. The Wine Crush and Oktoberfest are celebrated back-to-back, giving you the perfect excuse to pour yourself a glass. The Wine Crush takes place every year at the end of summer and is the time when vintners cross their fingers and hope this year's harvest is fruitful. Oktoberfest is a world-renowned celebration in Germany with plenty of beer tends, stalls, and fairground rides. While both events focus around alcohol, at Dicalite Management Group, we know another way they are connected: filtration. Read on to learn how minerals and alcohol mix to create the drinks you know and love.
Minerals and Alcohol: Wine Crush & Oktober Fest
Wine Filtration
There are many instabilities found in wine: grape protein hazes, tartrate crystals, yeast, bacteria, and fining agents. While safe for consumption, these particles are less than ideal, so many vintners chose to filter them out. Diatomaceous earth is a top choice:
Diatomaceous earth is the naturally occurring fossilized remains of diatoms—single-celled aquatic algae. This near-pure sedimentary deposit consists almost entirely of silica. It is a popular filtration medium across many industries because of its unique shape. The diatoms have a wide variety of shapes and a honeycomb-like structure—which you'd need a microscope to see. the packing of the small diatoms is irregular and creates a complex matrix with very high porosity. This allows the filter media to both remove very small particles and extend the flow rate of the material being filtered.
For wine filtration, the pores of diatomaceous earth within and between the cell walls are so small, they trap the suspended solids from liquids. This leaves your wine cleaner and clearer with drastically reduced solids and contaminant levels. Vintners use diatomaceous earth for wine filtration alone, or it's used as the second step in the filtering process.
Beer Filtration
Similar to wine filtration, beer filtration removes yeast, tannins, and some large proteins that eventually settle to the bottom of a barrel, can, or bottle. While safe if consumed, there are a few problems with leaving beer unfiltered in cans or bottles like unsightly particles at the bottom and unpleasant and unplanned flavor.
Although there are plenty of newer filtration technologies available to brewers today, diatomaceous earth remains the constant go-to beer filtration aid for many breweries, large and small. As all brewers know, filtering beer is challenging, and using the wrong filter aid can potentially change the taste and look of your beer. Some benefits of filtering beer with diatomaceous earth include:
Diatomaceous earth is completely natural and a mechanical—not chemical—filtration method.
It has a high solids holding capacity, allowing for much longer filter cycles (and more solids to be removed) than what would be possible with other filtration methods.
You can use it to positively change the characteristics of your brew! It's easy to adjust the filtration and flow, so you have yet another way to fill your beer with a unique personality. It leaves the artistry to you, not the limitations of your filtration method.
Dicalite 4200 Diatomaceous Earth for Wine and Beer Filtration
At Dicalite Management Group we understand how important it is to choose the right filtration method for your product. Our Dicalite 4200 Diatomaceous Erath is a top choice for wine and beer filtration. This high-grade diatomaceous earth is mined from the deposit at our Burney, California location and is a direct-run product, ensuring Dicalite 4200 is more consistent on our customers' filters and requires less adjustment due to DE variations. This allows the customer to focus efforts on process variations without concern for the additional variations from the filter aid.
Specifications
Type: Flux-calcined
Color: White
SiO2 %: >90
Apparent Bulk Density lbs/ft3: 15-18
Max Density Wet lbs/ft3: 23.1
Permeability (PFRv): 165-190 (2.72-3.61 darcys)
Moisture Content wt. %: <0.5
pH (10% slurry): 8-11
Specific Gravity: 2.33
Approved by several government agencies as a food and beverage processing aid
And most importantly, diatomaceous earth does not impart any odor or foreign taste to the wine.
Allergen-Free and Vegan
Good filtration practices ensure minimal residual protein remains in the final drink at amounts not associated with adverse reactions in consumers who have food allergies. All Dicalite diatomaceous earth products–including 4200–do not contain milk, lactose, egg, fish, or gelatin which ensures the beverage is suitable to all palates, including vegans.
Request Your Free Sample of Our Top Minerals for Alcohol Filtration
We can accommodate vineyards and breweries of all sizes. Call us today at 866-728-3303 for a free sample to learn how diatomaceous earth experts at Dicalite Management Group can help your filtration process. Our sales team works closely with our technical services team to ensure your product is perfect for your application.
If you'd like to learn more about using minerals for filtration, download our free e-book A World of Filtration Experience today.
Join Our Mailing List
Our blog offers insight and information about new and exciting uses for perlite, diatomaceous earth, and vermiculite deriving from years of research and application. From passive fire resistance to mineral depth filtration, by subscribing to our mailing list, you will receive the latest information surrounding the Dicalite, Dicaperl, and Specialty Vermiculite brands and products.