Dicalite Management Group's 2023 Tradeshow Schedule
---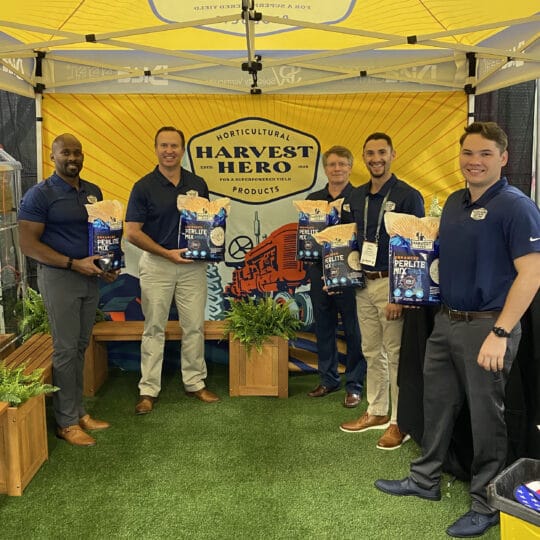 We have another busy year traveling around to spread the word about minerals and learn the needs of industry professionals. 2023 has us stopping at tradeshows across many industries to share how our diverse mineral offerings of diatomaceous earth, perlite, and vermiculite can be used. Whether you're attending the following regional and national trade conferences with us or learning from home this year, you can discover the many applications of our minerals. Here's Dicalite Management Group's 2023 tradeshow schedule looks like this year.
Dicalite Management Group's 2023 Tradeshow Schedule
Previously known as the National Biodiesel Conference and Expo, the Clean Fuels Conference is held as a way for industry leaders to collaborate, educate, and form connections to support this year's goal: United As One. Sessions cover various topics, including reducing carbon emissions and embracing positive clean fuel policies. This conference is hosted by the Clean Fuels Alliance America. This organization advances the interests of its members by supporting sustainable biodiesel, renewable diesel, and sustainable aviation fuel industry growth. It serves as the industry's central coordinating entity for technical, environmental, and quality assurance programs and will be the strongest voice for its advocacy, communications, and market development.
Diatomaceous earth plays a critical role in biodiesel production. Before feedstock can be converted to biodiesel, it needs to be filtered to remove impurities like phosphorous and soaps that can clog fuel filters and stop fuel flow to engines. Diatomaceous earth consists of billions of minute silica frameworks, making it an ideal filter media for biodiesel production. Learn more about how diatomaceous earth is used in Biodisals:
The AOCS Annual Meeting & Expo is held to help connect passionate professionals to ignite new ideas and reinvigorate work. This year's technical program features 80+ sessions across 10 interest areas for specialists in fats, oils, proteins, surfactants, and related materials. There are also additional opportunities to learn about hot industry topics and meet with colleagues and leaders in the space.
Minerals like diatomaceous earth and perlite are excellent filtration mediums and can be essential for edible oil processing. Fats and oils obtained directly from rendering (animal source) or extraction of the oilseed (vegetable source) are called "crude" oils and fats. This crude product contains varying substances—free fatty acids, proteins, water, and phosphatides—that impart undesirable flavor, color, and keeping qualities, which is why filtration is an important step when producing edible oils. It is also essential for removing clay after bleaching and removing wax after cooling. While not all oils are filtered, many are because unfiltered products appear unclean and can transfer unwanted contaminates.
Techtextil North America assembles all vertical aspects of the technical textile industry: from research and development through raw materials and production processes and conversion, further treatment, and recycling. This conference focuses on innovation, new business connections, diverse product groups, and education.
We have attended this conference many times because of our unique product: MicroLite vermiculite dispersions. MicroLite can be used to improve textile properties with the very important application of imparting fire resistance to fabrics. In addition to personal protective equipment for professionals, these dispersions can also be used to make consumer products like clothing, blankets, and upholstery fire-resistant. Learn more about this essential application of vermiculite:
The Cultivate'23 Conference brings together horticulture professionals to introduce new plants and innovative tools, plus teach best practices. This year, we are attending with our direct-to-consumer company, Harvest Hero.
We are looking forward to attending to educate industry professionals about perlite, diatomaceous earth, and vermiculite soil amendments. These minerals help growers produce a healthier, more robust crop:
BWI Expo | Date TBD
BWI Companies, Inc. distributes one of the largest selections of lawn and garden, animal health, professional grower, turf, landscape, agriculture, and pest management supplies. The company strives to be a knowledgeable resource and hosts conferences to gather industry professionals to discuss the latest developments.
Minerals play a critical role in the farming, horticulture, and lawn care industries:
Don't Wait for a 2023 Tradeshow — Talk with Us Today!
If you don't have plans to attend these 2023 Tradeshows, our knowledgeable team is always standing by, ready to answer your questions about our mineral offerings. And we'd be happy to send you a free sample! Call us today at 866-728-3303.
Follow us on LinkedIn and Twitter to get updates about where we are, what we're presenting, and how to find us.
Join Our Mailing List
Our blog offers insight and information about new and exciting uses for perlite, diatomaceous earth, and vermiculite deriving from years of research and application. From passive fire resistance to mineral depth filtration, by subscribing to our mailing list, you will receive the latest information surrounding the Dicalite, Dicaperl, and Specialty Vermiculite brands and products.